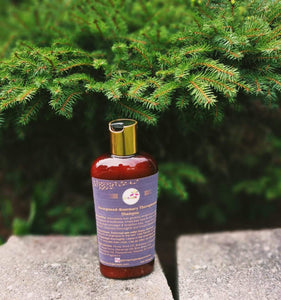 Myriads of individuals search desperately and tiresomely for a great hair shampoo that will fulfill their desire but still found their efforts to be futile. Well, guess what. The wait is over and there is no need to search anymore because Glamazing Soaps N More has created that awesome and potent shampoo formula just for you.

Did you know that the high antioxidant content in maracuja oil protects against hair loss?

Size: 16oz & 8oz 

Benefits:
Stimulate hair growth, reduce scalp irritation & itchiness, treat hair loss & dry scalp, promotes stronger & healthier hair, improves look & feel, cleanses thoroughly, treats dandruff.

Ingredients:
Hemp Seed Oil
Hemp Seed Oil contains proteins, fatty acids, and nutrients, all of which results in an healthy, resilient, and robust hair. Your scalp will also be healthier and less prone to irritation and itchiness because the Hemp seed oil helps to prevents dryness thus moisturizing parched scalp.

Interestingly, Hemp seed oil deeply moisturizes your hair and scalp which is needed to maintain healthiness, prevents breakage and will prevent long-term problems, like hair loss and baldness.

If you're prone to scalp infections, hempseed oil improves blood circulation and reduces inflammation. This helps protect your scalp from any infections.
Rosemary Essential Oil 

If an individual is desirous of improving both hair thickness and hair growth, Rosemary essential oil is a great choice due to its ability to improve cellular generation. Interestingly, research has shown that rosemary essential oil performed as well as minoxidil, a common hair growth treatment, but with less scalp itching as a side effect.

Aloe Vera 
Aloe Vera contains proteolytic enzymes which repairs dead skin cells on the scalp. It also acts as a great conditioner and leaves your hair smooth and shiny while promoting hair growth, preventing itching on the scalp and reducing dandruff.

Maracuja Oil
The high antioxidant content in maracuja protects against hair loss. Also, the moisturizing properties of this oil are effective for conditioning hair to enhance smoothness and volume.

Rice  Bran Oil 
Rice bran oil contains rich amounts of antioxidants that help protect the hair from UV exposure. It also fights dandruff, thickens hair and delays premature greying

Calendula Flower oil
Calendula oil moisturizes and hydrates your scalp, thus eliminating dandruff issues. Calendula also possesses healing properties for damaged scalp which can be one of the reasons for hair loss. Interestingly, it effectively heals and conditions the scalp thus making your hair healthier and stronger.
Flax Seed oil 
Flaxseed oil provides nutrition for hair follicles because it's rich in fatty acids. The omega-3 fatty acids nourish hair follicles for healthy hair growth.
Additionally, Flaxseed oil's omega-3 fatty acids are anti-inflammatory, and may lower inflammation associated with hair loss, dandruff, and other unhealthy scalp conditions.
Its vitamin E content also provides additional nourishment for hair follicles and moisturizes the strands.
Vitamin B Complex 
Natural Fragrance

Unique formula / Cruelty free / Improve hair growth / hair care / Vegan

Directions:
External use only! Apply desired amount of shampoo to the hair. Use hands or comb & massage thoroughly. Leave in the shampoo for 5 to 15 minutes then rinse. Use as often as desired.