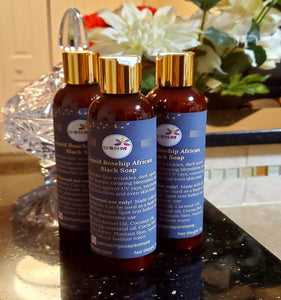 The African Liquid Black Soap is originated from West Africa and is Handmade by women from the ash of locally harvested African plants which gives the soap its dark color.
This mother nature soap is comprised of a variety of powerful ingredients which is beneficial for the body, the face and the hair. This soap is gentle on sensitive skin and is good for all skin type. Interestingly, it possesses antibacterial and anti-fungal properties that aids in treating acne, hyperpigmentation and other skin conditions.
Size: 8oz
Benefits:
The Liquid Rosehip African Black Soap is good for fine wrinkles, dark spots, eczema, razor bumps, clearing blemishes, acne and rashes. It is also used as a light exfoliator and can also be used in your hair to treat scalp irritation. This soap also protects against UV rays and is mild on sensitive skin.
Palm Kernel Oil:
Works as a softener, lubricant and aids in alleviating dry itchy skin. 
Coconut Oil:
Coconut Oil is rich in saturated fat and fatty acids, mainly lauric acid. It also has antimicrobial properties aid in protection against harmful microorganisms. Additionally, Coconut Oil helps to reduce inflammation, treat acne, moisturize dry skin, fight bacteria and diminishes razor irritation and bumps. 
Stearin Oil:
Moisturizes, nourishes skin affected by eczema, psoriasis and stretch marks. Additionally, it is rich in antioxidants, Vitamins A, C and E, thus leaving the skin smooth.
Cocoa Pod Husk:
Help with fine lines, wrinkles and reduces the appearance of acne scars.
Unrefined Shea Butter:       
Moisturize dry skin, treat acne and blemishes, reduce skin inflammation, anti-aging & anti-free radical agent and provides relief to itchy and peeling skin.
Plantain Skin:
Plantain skin contains Allantoin which is a powerful skin soothing agent that encourages cell growth, soothes the skin and can aid in treating sunburn. Plantain skin also has antibacterial and germicidal properties which make it convenient for preventing acne. 
Natural Vitamin A & E:
These vitamins protect against ultraviolet rays, encourage healthy skin production, even skin tone, treats and prevent acne. Interestingly, the antioxidant components aids in combating the effects of free radicals produced by the metabolism of food and toxins in the environment. 
Natural Sodium Water (no chemical or preservatives added):
This is use to mix other ingredients and revitalize the skin
Rosehip Oil
Helps to moisturize and hydrates the skin
Helps to exfoliate and brightens skin
Helps to reduce inflammation
Helps to protect against sun damage that cause hyperpigmentation and helps to keep skin firm
Helps to reduce scars and fine lines
Helps to regenerate the skin
Natural Soap / Cruelty Free / Improve Skin / Skincare / Vegan
Directions
Pump the desired amount from the foam bottle and apply to the face or body. Use 1-3 times per day and moisturize after.