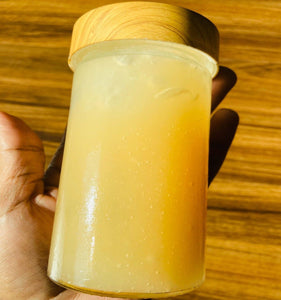 Our Sea Moss is produced in small quantities to ensure quality and freshness. We do not use preservatives, gums or unnecessary additives. Just organic wild crafted Sea Moss and spring water. Your made to order Sea Moss will be shipped within 1 business day.
Sea Moss is a species of red algae. Which you can find on the rocky parts of the Atlantic coast of Europe and North America. Sea moss has some vital properties for which it was used throughout Europe for decades. It helps those people who are suffering from malnutrition.

Sea Moss is a source of potassium chloride, a nutrient which helps to dissolve catarrh (inflammation and phlegm in mucous membranes ) which causes congestion. It also contains compounds which acts as natural antimicrobial and antiviral agents helping to get rid of any infections.
Did you know that Sea Moss has 92 of 102 minerals that body needs?
Size: 6oz
Benefits:
Relief from symptoms of Cough & Sore Throat
Increased energy and nutrition
Disease recovery
Healthy skin
Strengthening of joints and connective tissues
Soothing the digestive track
Increased thyroid health
Strengthening of immune system
Sea Moss or Irish moss is very low in Saturated Fat and Cholesterol. It is also a good source of Dietary Fiber, Vitamin K, Calcium and Copper, and a very good source of Riboflavin, Folate, Iron, Magnesium, Phosphorus, Zinc, and Manganese.

Ideal to mix with your favorite Smoothies, Soups etc.


Feel free to apply it topically!
Not only does sea moss assist in ridding the body of ailments, but it is also used to treat skin diseases such as eczema, dermatitis, psoriasis, and in general, sunburn and chapped skin. In its gel state, use as a skin- loving and reviving facial, a nourishing hair conditioner, or food thickener to add character to fun flavored sauces and yummy treats.



Legal Disclaimer:

Statements regarding dietary supplements have not been evaluated by the FDA and are not intended to diagnose, treat, cure, or prevent any disease or health condition.