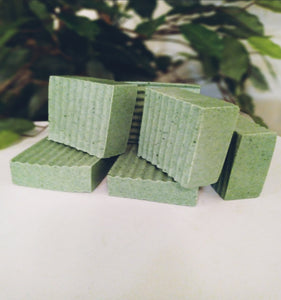 Please note that due to the handmade nature of this soap, color shades may slightly vary. Each loaf and bar is unique!
The Spirulina Tea Tree Bar is compacted with all natural cruelty free ingredients such as; Spirulina, Oatmeal, Shea Butter, Hemp Seed Oil and Tea Tree Essential Oil. These ingredients are potent and ensure that your skin is nourished, cleansed, and restored to the best state possible.
Did you know that Spirulina wards off free radical and eliminate toxins from the skin?
Size: 5oz
Benefits:
This bar is great for fighting against acne, pimples, skin inflammation, wrinkles, dark circles and dry skin. All ingredients work in unison to detoxify the skin by removing impurities from the epidermis thus unclogging pores and allowing a healthier skin. Interestingly, acne scars and pimples tremble when this potent soap receives a fierce and bold encounter with them, working expeditiously and tirelessly to completely eradicate these skin defects. The final results thereof are golden, which exhibits its fruit in a majestic manner on the skin surface. This soap ensure that the cells are nourished, which ultimately invigorate cell growth and leaving the skin smooth, soft, extra clean and with a fairer countenance. Additionally, it aids in controlling the oil production of the skin while rejuvenating and hydrating it to give you a smoother looking skin.
Spirulina
Spirulina has a high content of fatty acids, protein, minerals, vitamin A, vitamin B-12, vitamin E, calcium, iron and phosphorus, all of which are vital for your skin's health. Additionally,  Spirulina facilitates faster cell turnover that helps skin heal faster. It wards off free radicals and eliminates toxins from the skin to increase skin metabolism. It also prevents candida overgrowth that can cause acne breakouts.
Tea Tree Essential Oil
The tea tree essential oil is an absolutely great for treating acne because of its anti-inflammatory and antimicrobial properties. It's thought to calm redness, swelling, and inflammation. Research has also shown that it helps to prevent and reduce acne scars, leaving you with smooth, clear skin. 
Oat Shea Butter
This contains natural Oat Meal which has exfoliating properties that is great for removing dead cell from the skin. It is also said to rejuvenate and moisturize the skin due to the natural properties of Shea Nut Butter.
Hemp Seed Oil
Hemp Seed oil is high in omega acids 3, 6, and 9, all of which help repair the skin barrier and form a seal over the skin to keep moisture trapped inside. Due to its high content of fatty acids, the hemp seed oil helps to soothes skin inflammation, control skin oil production, prevents acne, rejuvenates and hydrates the skin, reduces the appearance of fine line and wrinkles thus giving you a more youthful glow.
Natural soaps / Cruelty free / Improve skin / Skincare / Vegan
Directions
This bar can be used for both face and body. Use 1-3 times per day and moisturize after.