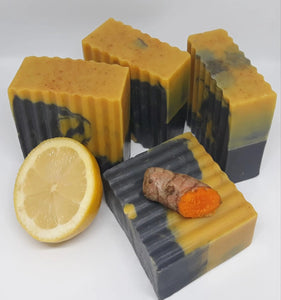 Please note that due to the handmade nature of this soap, color shades and swirl styles may slightly vary. Each loaf and bar is unique!
The Turmeric Charcoal Blast is a combination of Organic Turmeric, Activated Charcoal and Lemon Essential Oil which is great for acne prone, blemished and oily skin. This bar is fantastic for detoxifying the skin, reducing pores and protecting against sun damage leaving your skin flawless and glowing.
Size: 5oz
Benefits:
This bar is great for fighting acne, unclogging pores, brightening, detoxifying, reducing scars and balancing oily skin.
Activated Charcoal Powder
Reduce Pores
Balances oily skin
Detoxifies and purifies the skin
Treat acne 
Lemon Essential Oil
Helps to treat acne

–

lemon oil is a rich source of antioxidants, citric acid and vitamin c properties that help to reduce acne-causing bacteria and germs. 
Helps to lighten the skin – Lemon oil is comprised of citric acid which is used as a safe skin hyperpigmentation agent. Its anti-inflammatory and antiseptic properties help to replenish damaged melanin cells caused by excessive exposure to sunlight.
Helps to fight skin aging 
Turmeric
Has anti-inflammatory properties
Treats acne
Reduce dark circles
Protect against sun damage and aging
Reduce stretch mark appearance
Soothe dry skin 
Natural soaps / Cruelty free / Improve skin / Skincare / Vegan
Directions
This bar can be used for both face and body. Use 1-3 times per day and moisturize after.