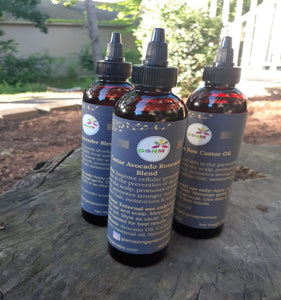 In this modern era, knowledge has increased vastly and as such, things are expected to be easier while more effective. This is the reason why careful research and planning was emphasized in Packaging the "Jamaican Raw Castor Oil Blends" formula. The ingredients complement one another while working in unison to give stronger, thicker and healthier hair.
The package was designed to give consumers the ease of applying oil to the scalp by its easy squeeze bottle and sophisticated twist lock dispenser, making it a better choice when compared to other brands.
Did you know that our unique package and the Jamaican Raw Castor Oil Blends helps to thickens & strengthens weak and damaged hair & is safe for all hair type including relaxed, braided, color and weaved hair?
Size: 8oz
Benefits:
Treat and aids in the prevention of dandruff, cleanse the scalp, promotes thicker hair growth, promotes stronger hair, promote healthier hair, moisturizes & nourishes. 
N.B. Natural fragrances are used in the 'Castor Lavender' and the 'Castor Avocado Rosemary' blends. 
Additional Benefits & Ingredients
Castor oil
Research shows that castor oil helps to stimulate hair growth and reduce dandruff. It contains ricinoleic acid, which has anti-inflammatory properties thus allowing it to help soothe and reduce scalp irritation. Additionally, Castor oil may help reduce dandruff because of its antimicrobial, antibacterial, and antiviral properties which may also help cleans the scalp and protect it from infections.
Avocado oil
Avocado oil contains an assortment of vitamins, minerals, and antioxidants that aids in promoting healthier hair by reducing dandruff, preventing breakage and detangling hair.
Lavender Essential oil
Lavender oil can speed up hair growth because it possesses properties that can generate the growth of cells and reduce stress. It also has antimicrobial and antibacterial properties, which can improve scalp health.
Rosemary Essential oil
If an individual is desirous of improving both hair thickness and hair growth, rosemary oil is a great choice due to its ability to improve cellular generation. Interestingly, research has shown that rosemary oil performed as well as minoxidil, a common hair growth treatment, but with less scalp itching as a side effect.
Unique formula / Cruelty free / Improve hair growth / hair care / Vegan
Directions:
External use only! Shake well before using. Apply on dry or damp hair and scalp. Massage gently. Do not rinse out. Style as usual. Use daily or as often as needed to yield best result.