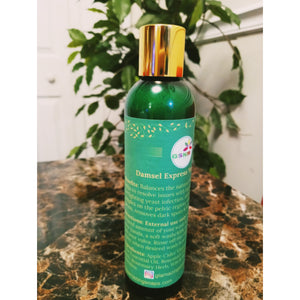 The Damsel Express Yoni wash is compacted with all natural cruelty free ingredients such as; Apple Cider Vinegar, Basil Herb, Tea Tree Essential Oil, Rosemary Essential Oil, Thyme Herb, Rosemary Herb, Witch Hazel, Rosewater and Spirulina. The ingredients alone are tiresome to read; nevertheless the real joy is revealed when the product has been utilized.

*Did you know that Rosewater has anti-viral and anti-bacterial properties that can be used to fight bacteria and germs in the genital region?*

Size: 8oz

*Benefits:*
This wash is great for fighting against yeast infection, diminishing pimples on the pelvic region, balancing the natural PH of the vulva and resolving issues with ingrown hairs. Additionally, it aids in alleviating itching and burning sensations while fighting bacteria and unpleasant vaginal odor. A sweet smelling savor is lingered after use, leaving the vulva fresh, clean, rejuvenated and ready to use.

*Ingredients*

*Apple Cider Vinegar:*
The potency of apple cider vinegar has helped a variety of women in the past. Apple cider Vinegar aids in fighting yeast infections such as candidiasis by restoring the natural vaginal PH levels, thus alleviating itching and diminishes unpleasant vaginal odor. Additionally, Apple Cider Vinegar contains acetic acid which has been proven effective in limiting the growth of bacteria. 

*Basil Herb:*
Basil is known for being a powerful uterine stimulant. It may also reduce painful menstruation.


*Tea Tree Essential Oil:*
Tea tree oil has been proven to be an effective bacterial, anti-fungal and antiseptic agent in the treatment and cure of common ailments such as; yeast infection.

*Rosemary Essential oil*
The antibacterial, antifungal, antiseptic, and anti-inflammatory properties of rosemary oil make it an effective solution for fighting and preventing genital infections.

*Thyme Herb:*
Thyme herb contains thymol which has been found scientifically to have antiseptic and anti-fungal characteristics. It is packed with vitamins that are essential for optimum health. Some such vitamins are; vitamin-A, vitamin-K, vitamin-E and vitamin-C. Research has shown that vitamin-C helps the human body develop resistance against infectious agents, whereas vitamin-A aids in maintaining a healthy skin. 

*Witch Hazel:*

Relief inflammation

Reduce skin irritation

Help treat hemorrhoids

Protect against skin damage

Wards of infection

*Spirulina*
Spirulina can help balance genital bacteria. Just like how spirulina is a magnet for toxins like heavy metals, it also attracts candida cells and can obliterate them from the body. 

Natural wash / Cruelty free / Improve Vulva / Vaginal Care / Vegan / Balance pH

*Directions*
External use only! Use 1-3 times per day for the best results.