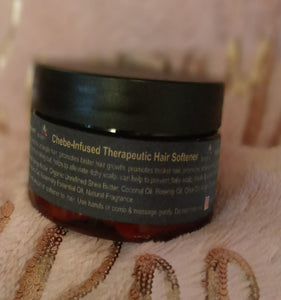 Individual globally are more concerned about natural remedies to enhance hair growth while promoting stronger, more attractive and healthier  hair. This is the reason why careful research and planning was done in creating the "Therapeutic Hair Conditioner" formula. The ingredients complement one another while working in unison to condition, strengthens, thickens and nourishing the hair.
Did you know that the Chebe powder is an all-natural powder that's derived from natural plants and herbs with properties that nourish the hair follicles?
Size: 8oz
Benefits:
Conditions the hair, help to untangle hair, promotes faster hair growth, promotes thicker hair, promotes stronger hair, fight split ends, moisturizes & nourishes, treat & aids in the prevention of dandruff.

Ingredients

Unrefined Shea Butter
Any individual looking to find a great natural beauty product for their hair needs to know that the unrefined Shea butter is an excellent and wonderful choice. Some of its benefits are that it, repairs damaged hair, prevents hair loss, soothes dry and Itchy scalp, treats split ends and breakage while working as an effective natural conditioner.

Unrefined Mango Butter
Unrefined mango butter has high levels of antioxidants, vitamins, saturated and monosaturated fatty acids which makes it useful for the hair. The emollience of the butter is helpful for natural hair because it seals and protects the strand.
Mango butter also helps the scalp to regenerate skin and can be very healing for anyone suffering from conditions like dandruff, eczema, or psoriasis. It reduces the degeneration of skin cells and restores elasticity, creating the ideal environment for healthy hair growth.
Aloe Vera
Aloe Vera contains proteolytic enzymes which repairs dead skin cells on the scalp. It also acts as a great conditioner and leaves your hair smooth and shiny while promoting hair growth, preventing itching on the scalp and reducing dandruff.
Amla Powder
Amla power condition your scalp, promote healthy hair growth, minimize grays, boost volume, reduce dandruff and can treat head lice
Coconut oil
Coconut oil stimulates hair growth by getting deep into its follicles, while strengthening the hair defense mechanism against problems such as insect bites, lice and dandruff. Coconut oil also deeply nourishes and moisturizes dry hair, thus adding to luster, shine and softness of the hair. Additionally, it prevents hair breakage and split ends, contributing to hair length, thus minimizing hair loss.

Rosehip oil
Rosehip oil contains many revitalizing ingredients, such as Vitamins C and A, which stimulate collagen production. Rosehip oil for hair growth can also help prevent the damaging effects of oxidants that damage hair cells over time. The essential fatty acids contained in rosehip oil for hair loss aid in the renewal and healing of hair follicles, which are essential for promoting hair growth. The fatty acids not only deeply moisturize the skin underneath the hair, but increase the hair's elasticity, thus improving luster and shine.

Olive oil
Olive oil moisturizes your hair and reduces scalp irritation, which further reduces dandruff. Correspondingly, it nourishes and promotes hair growth.
Argan oil
Argan oil has a high content of antioxidants, essential fatty acids and vitamin E which makes it able to naturally increase the hair's moisture content and elasticity, combat frizz, and also protect the strands from damage that causes split ends and breakage.

Hempseed oil
Do you want to achieve soft, bouncy, healthy, luxurious and thick hair the natural way? If yes, get yourself our products that contain hempseed oil today.
Hemp seed oil contains proteins, fatty acids, and nutrients. All of these ingredients result in healthy, resilient, and robust hair. Your scalp will also be healthier and less prone to irritation and itchiness. It also prevents dryness, and moisturizes your parched scalp.
Hempseed oil deeply moisturizes your hair and scalp which is needed to maintain healthiness, prevents breakage and will prevent long-term problems, like hair loss and baldness.
If you're prone to scalp infections, hempseed oil improves blood circulation and reduces inflammation. This helps protect your scalp from any infections.

Chebe Powder

Chebe powder is great for moisturizing and conditioning the hair. It also strengthens the hair,  helps hair to retain moisture for longer by locking in the moisture while at the same time Improving hair density and giving hair an appearance of thickness over time.

Henna Powder
Henna powder can help repair split ends and make your hair thick and lustrous while nourishing your scalp and hair at the same time. Henna powder also helps to calm down overactive sebaceous glands, controlling oil production in the process and helps to restore the pH of the scalp to its natural acid-alkaline level, thus strengthening the hair follicles.

Fenugreek Powder
The mucilage content of the fenugreek replenishes the hair and provides smoothness allowing you to detangle your hair easily post every wash. This also helps restore luster.
In addition, fenugreek has antioxidant and anti-inflammatory properties that help with dandruff and scalp irritation. Interestingly, if you are losing hair due to menopause, it is highly recommend you use fenugreek since it is high in estrogen and thus will help prevent hair from thinning.
Rosemary Essential oil
If an individual is desirous of improving both hair thickness and hair growth, rosemary oil is a great choice due to its ability to improve cellular generation. Interestingly, research has shown that rosemary oil performed as well as minoxidil, a common hair growth treatment, but with less scalp itching as a side effect.

Unique formula / Deep Conditioning / Cruelty free / Improve hair growth / hair care / Vegan
Directions:
External use only! Rinse out conditioner. Apply desired amount of "Chebe-Infused Therapeutic Hair Softener" to  hair. Use hands or comb & massage gently. Do not rinse out. Use as often as desired.