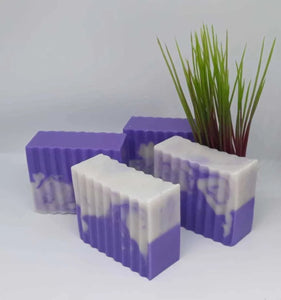 Please note that due to the handmade nature of this soap, color shades and swirl styles may slightly vary. Each loaf and bar is unique!
The Oat Shea Lavender Bar contains natural Oat Meal which has exfoliating properties that is great for removing dead cell and leaving the skin with a radiant glow. It is compact with Vitamin E, D and Provitamin A which promotes moisture and elasticity on the skin. The infusion on Bentonite Clay and Lavender Essential Oil aids in reducing the appearance of scars, unclog pores and generate new cells.
size: 5oz
Benefits:
This bar is great for treating acne, dark spots, uneven skin tone and eczema.
Bentonite Clay
Bentonite clay is comprised of ash made from volcanoes and is widely used to:
Heal acne
Unclog pores and draws out toxin from the skin
Naturally exfoliate and soften the skin
Brightens and reduce the appearance of scars
Heals and generate new cells
Even skin tone
Tighten skin
Reduce blemishes and prevent black heads 
Lavender Essential Oil
Helps to treat acne – lavender oil has anti-inflammatory and antiseptic properties that can fight the bacteria that cause acne and inflammation.
Aids in treatment of eczema – lavender oil has the ability to alleviate itching, thus accelerating healing process and reducing the symptoms of eczema.
Detoxifies the skin – lavender possesses potent antioxidants that aids in fighting environmental toxins.
Heal Burns - the antiseptic and anti-inflammatory properties of lavender oil participates in healing burns and helps to fade scars caused by injuries and burns, while acting as a toner.
Aids in treating tired muscles – lavender oil relaxing properties is an excellent treatment for tired muscles. 
Rosemary Oil
Helps to fight acne – has powerful antibacterial, antiseptic, anti-inflammatory and astringent properties that all works together to fight acne and prevent more from showing up.
Helps to unclog pores – it gently detoxifies congested skin by purifying it from deep within the pores.
It actively wards off free radicals that cause premature aging of skin, smooth fine line and prevent wrinkles.
Aids in minimizing large pores, tightens and tones skin.
Get rid of under eye bags.
Heals eczema and other inflammatory skin conditions.
Natural soaps / Cruelty free / Improve skin / Skincare / Vegan
Directions
This bar can be used for both face and body. Use 1-3 times per day and moisturize after.